If you have some old 8mm video tapes of any format you'd like to watch or transfer to digital but no longer have a working camcorder you might be wondering if you can still buy an 8mm camcorder so you can play your tapes back.
You can still buy an 8mm camcorder of any format including Video8, Hi8, or Digital8. 8mm camcorders are not sold in electronics stores but are available online and on used marketplaces. They no longer make 8mm camcorders, the Sony discontinued the last Hi8 and Digital8 camcorders back in 2007.
After spending dozens of hours researching we've identified the 11 best places you can still find Sony, Panasonic, and JVC 8mm camcorders for sale for all formats, be it Video8, Hi8, or Digital8. You'll be surprised to see how many great places not only sell them but also offer a warranty.
11+ Places 8mm Camcorders For Sale (Hi8/Digital8/Video8)
A few things to keep in mind as you shop for 8mm camcorders:
Playback is most important – nobody is buying an 8mm camcorder to record a new video with, they want to play tapes back. So the features of the camcorder like digital zoom and night vision should matter to most people unless you are a retro video enthusiast. All that matters is they are compatible with the tapes you want to playback for converting 8mm tapes to digital.
Types of Tapes – take inventory of the tapes you want to playback. Sometimes you can't tell by the type of tape what the original recording format was, as you may have used a Hi8 cassette but recorded on a Video8 or Digital8 camcorder. Unless you know for sure you may want to look for a Digital8 camcorder model that plays back both 8mm and Hi8 recordings to be safe.
Models Are Limited – since all 8mm camcorders have been out of production for over 15 years you can't get hung up on specific models. Instead, focus on camcorders in good working order from reputable sellers with a return policy and possibly a warranty.
Brand – Most 8mm camcorders were made by Sony, but there are other brands that made 8mm camcorders like Canon, Panasonic, and Hitachi. If you can remember the brand you used for recording your tapes I think you are better off trying to find the same brand for playback.
Price – some 8mm camcorders may be more expensive than you think as they are a rare commodity now, but as long as it survives your video transfer process you can sell them after for probably more money than you purchased them for.
Charger – make sure the camcorder comes with a charger/power supply.
VCRs – there are also various 8mm VCRs that can play back tapes as well but are harder to come by and more expensive.
8mm Tape Playback
| | |
| --- | --- |
| Camcorder Type | Plays Tapes |
| 8mm / Video8 | can play 8mm |
| Hi8 | Hi8 and 8mm |
| Digital8 | 8mm, Hi8, Digital8* (most models) |
eBay – our #1 choice
This is no big shock that eBay is the #1 place to buy an 8mm camcorder, it's the world's used marketplace. On the last check, there were over almost 3,000 8mm camcorders for sale on eBay. Not only does it have the widest variety of8mm camcorders available, but the prices also tend to be the most affordable.
Can I Still Buy a New 8mm Camcorder? Maybe….
You may still be able to find a "new" 8mm camcorder on eBay. Although all 8mm camcorders formats were discontinued in 2007, there are occasionally a few new/unopened camcorders for sale.
When searching eBay for new 8mm Camcorder you need to select the condition to "new" and "open box" on the left. Obviously, inventory will fluctuate but it's worth a try to see if you can find a camcorder in new or like-new condition.
When buying any used item, especially from sites like eBay be careful to check out if there is a return policy or even a limited warranty. It would be terrible to start transferring your tapes and have your camcorder die a few tapes into the process.
If this concerns you there are other sites that offer limited warranties we have on our list, so please keep reading.
Amazon
Amazon does sell 8mm, Hi8, and Digital8 camcorders and is one of the best online retailers next to eBay when it comes to vintage electronics like this. There is plenty of good 8mm camcorders still for sale on Amazon, several of which come with Prime shipping.
When searching Amazon either use our pre-filtered search for 8mm, Hi8 and Digital8 camcorders or make sure to scroll down in the filters on the left side to Media Type and select "Analog 8mm" and "Digital8" otherwise, you'll see a bunch of non-camcorder items in your results.
What I found was a large selection of camcorders at reasonable prices from reputable sellers, so definitely consider Amazon when searching for an 8mm camcorder.
Facebook MarketPlace
Facebook MarketPlace is quickly taking over as the way to sell used things locally. Depending on your area you may find some 8mm, Hi8, and Digital8 camcorders for sale, I always see a few in my area for local pickup, as well a good amount that can be shipped so give it a look.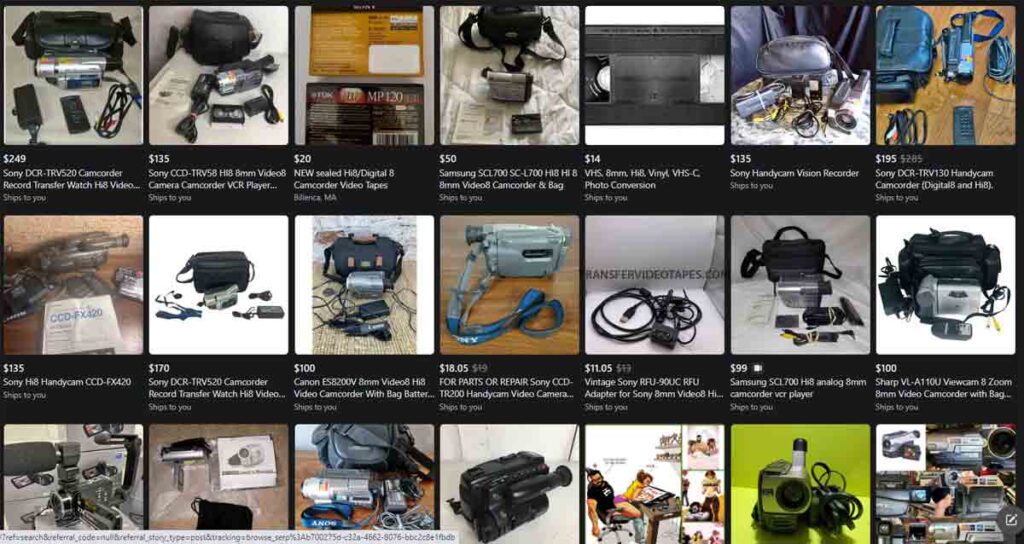 Etsy
It turns out that Etsy is an amazing marketplace for vintage electronics. I found pages and pages of not only 8mm camcorders for sale, but merchants offering their video transfer services. See below as an example.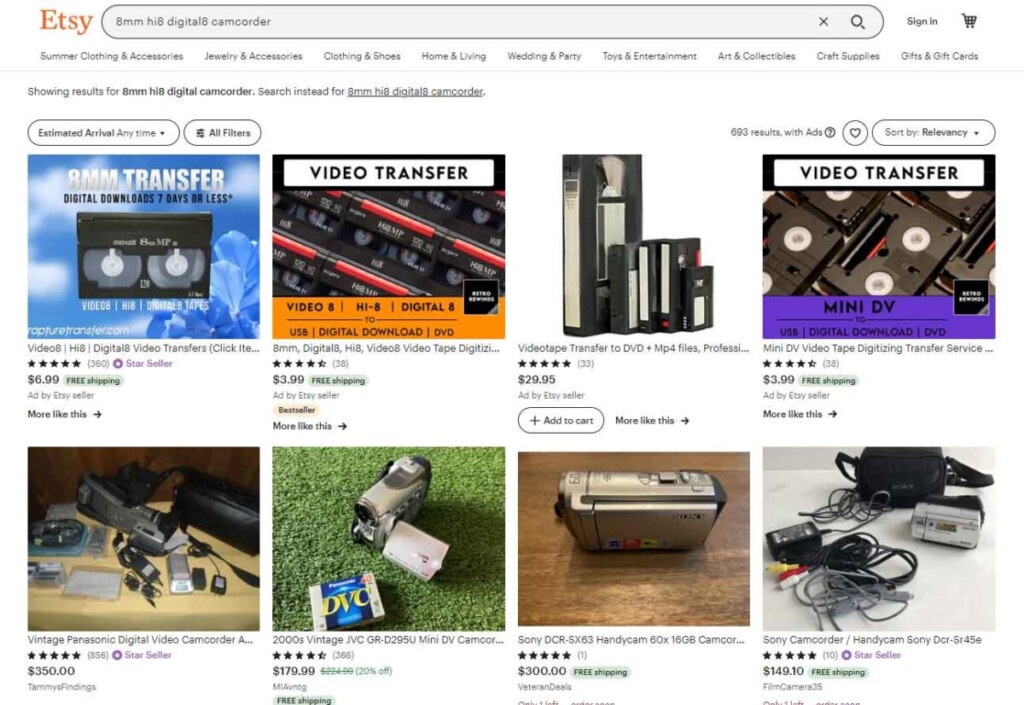 Porter Electronics
Another retailer I found while researching was Porter Electronics, they also specialize in legacy video equipment like VCR, camcorders and more!
They offer a 7-day return policy and 90-day exchange warranty on all items, as well as the option to purchase an additional 1-year extended warranty.
Sounds like a great place to buy an 8mm, Hi8, or Digital8 camcorder, especially if you really want to make sure they work and last you through your video transfer process.
Offerup (formerly LetGo)
LetGo is now part of OfferUp – another popular phone app and website for selling used stuff, so a great place to look for a used 8mm. Hi8, or Digital8 camcorder near you.
When searching my area in New England I only found a few 8mm camcorders for sale, not the best selection but still worth a look.
Thrift Stores and Pawn Shops
You can sometimes find 8mm camcorders, VCRs, and other legacy electronics at thrift stores. The most popular being Savers and The Salvation Army Stores can have just what you are looking for.
Its a shot in the dark but worth taking if you live near one.
Craigslist
Another fantastic used marketplace, Craigslist is a great place to look for a used 8mm, Hi8 or Digital8 camcorder. The nice thing about buying locally from places like Craigslist is you know the item you're buying wasn't bounced around planes and delivery trucks on the way to your house.
There seems to be less inventory on Craiglist but it is worth looking at. I think most people are selling used goods through Facebook Marketplace now.
Mercari
Mercari is another online marketplace of used goods. They appear to have a decent selection of vintage electronics like 8mm camcorders and VCRs.
I've personally never used the website and have no idea of the quality of the merchants. If you are interested try this link: https://www.mercari.com/search/?keyword=mini%20dv%20camcorder
Yard Sales & Flea Markets
Yard sales are a great place to find vintage electronics. Sometimes you can find a VCR or camcorder in working condition for very cheap. Keep an eye out this summer for any vintage electronics, it may be worth purchasing just to sell it online for a profit if you don't need it
Friends and Family
This actually should be one of your first choices: reach out to friends or family in person or via social media and see if anyone has a working 8mm camcorder that you could borrow or buy. Chances are someone you know has a working camcorder they can dust off and lend to you.
Offer to even transfer any videotapes for them once you get your camcorder connected to your computer
Where to Buy an 8mm Camcorder Player Near Me?
You do have some great local options when searching for an 8mm camcorder for sale.
Yard Sales
Thrift Stores like Savers
CraigsList
Facebook Marketplace
Places That Do *Not* Sell 8mm Camcorder Camcorders – Just Incase You Wanted to Check:
BestBuy, Target, and other large retail stores do not sell 8mm camcorders either online or at the store. Even many online electronics retailers like B&H Photo Video and Adorama do not sell them anymore.
So just in case you were wondering do not bother looking at these stores for 8mm camcorders:
BestBuy – BestBuy no longer sells 8mm camcorders in-store or on their website. Any listings you find online will be for out-of-stock items. Instead of shopping BestBuy, look at the other online retailers listed in this article.
Target
B&H Photo Video
Adorama
OverStock
Conclusion
You still have plenty of options when it comes to purchasing an 8mm camcorder with eBay being your best option as far as selection.
Once you have a working camcorder please review your tapes and start transferring them to a digital format before the tapes deteriorate and can no longer be played
More Reading: